Jacqueline MacInnes Wood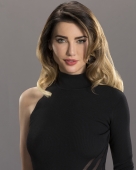 ­
Canadian Actress Jacqueline MacInnes Wood plays the manipulative and sexy "Steffy Forrester", daughter of "Ridge" (played by Ronn Moss) and "Taylor" (played by Hunter Tylo), on THE BOLD AND THE BEAUTIFUL.
Born and raised in Windsor, Ontario, Canada, MacInnes Wood moved to Toronto at age 18 to pursue her dream of becoming an actress. Her first job, as "The Hair Girl" in a First Choice Hair Cutter's national commercial, continues to play to this day. Soon after, she landed the job of host on the global series, Gamer Girlz. MacInnes Wood then enlisted in acting classes at Ryerson University, Centre for the Arts and the Armstrong Acting Studio. In 2007, she appeared as "Faith, the Model" in Paul Reiser's TBS micro-series, Lovebites, as "Candice" in Donny Wahlberg's UPN series M.V.P., "Julie Gunn" in the Disney pilot, Skyrunners, as well as a lead role in the Hallmark movie, Nightmare at the end of the Hall. In the fall of 2011, MacInnes Wood starred in the blockbuster 3D horror film, Final Destination 5.
MacInnes Wood has received two Emmy® nominations in the category of "Outstanding Younger Actress" for her work on THE BOLD AND THE BEAUTIFUL, in 2011 and 2012.
In June 2013, The Bold and the Beautiful received its eighth Golden Nymph Award at the International TV Audience Awards in the "Telenovela/Soap Opera" category at the Monte Carlo Television Festival. In 2011, The Bold and the Beautiful received its third consecutive Emmy® award for "Outstanding Daytime Drama Series". In 2010, Guinness World Records® named The Bold and the Beautiful the Most Popular Daytime Soap Currently on TV. The Bold and the Beautiful is the most watched daytime drama series in the world, seen daily by millions of people in over 100 countries.
The Bold and the Beautiful, which celebrated its 27th anniversary on March 23, 2014, is a Bell-Phillip Television production, broadcast weekdays (1:30-2:00 PM, ET, 12:30-1:00 PM PT) on the CBS Television Network. It is the first and only daytime drama to simulcast in Spanish utilizing SAP (Secondary Audio Program) technology. Bradley P. Bell is the Executive Producer and Head Writer.