Robert Joy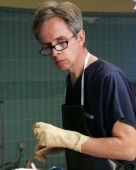 Robert Joy's television credits include a series regular role on "M.D.'s" and a leading role on the CBS movie of the week "Helter Skelter." He also had a recurring role on "Boston Legal" and guest-starring roles on numerous hit shows including "Everybody Loves Raymond" and "Without A Trace," both on the CBS Television Network, "Medium" and "Malcolm In the Middle."

Joy's feature film credits include roles in many popular horror films such as "AVP2" ("Aliens vs. Predator 2"), "The Hills Have Eyes," "Land of the Dead" and "Perfume." He has also appeared in "Harriet the Spy," "Sweet November," "Waterworld," "Shadows and Fog" and "Desperately Seeking Susan."

His stage credits include Broadway productions of "Hay Fever," "The Nerd" and "Shimada," as well as roles at the American Place Theater, the American Repertory Theater, and the Lincoln Center Theater. Joy has also participated in many Shakespeare productions, including "Romeo and Juliet" at the La Jolla Playhouse, as well as "The Taming of the Shrew" and "Found A Peanut," both at the New York Shakespeare Festival.

Born in Montreal, Joy currently resides in Los Angeles. His birth date is August 17.