Chi McBride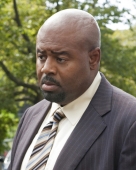 Kenneth McBride was born in Chicago, Ill., which is where his nickname "Chi" is derived.

Chi started his television career as the wisecracking, philosophical janitor on the "The John Larroquette Show," and is most known for his role as the principal on "Boston Public." McBride has had series regular roles in numerous other television shows including "Pushing Daisies," "The Nine," "Human Target," "Killer Instinct," and a recurring role on "House M.D. His guest starring roles include "How I Met Your Mother," on the Network, "HawthoRNe," "Suits," the Hudlin Brothers' production of "Tang," a segment on HBO's "Cosmic Slop Trilogy," for which he earned critical acclaim for his role as T-Bone, among many others. Also, McBride starred as Bundini Brown in the television movie "Muhammad Ali: King of the World." Currently, his voice can be heard as the character Nick Fury in the new Marvel Comics animated series "Ultimate Spider Man."

McBride's feature film credits include Jerry Bruckheimer's "Gone in 60 Seconds," "Disney's: The Kid" opposite Bruce Willis; "Annapolis" with James Franco and Tyrese; Steven Spielberg's "The Terminal," opposite Tom Hanks; the action thriller "I, Robot" with Will Smith; "The Distinguished Gentleman" opposite Eddie Murphy; the Academy Award-nominated film "What's Love Got To Do With It," "The Great White Hype," "Hoodlum," "Mercury Rising" and "The Frighteners." In addition, he appeared in the comedies "Waiting," "Let's Go to Prison" and "Undercover Brother." Recently, he wrapped production on "Pawn Shop Chronicles," due out in 2013.

Currently, he resides in Los Angeles and his birthday is Sept. 23.