Holt McCallany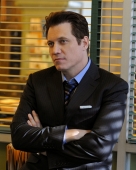 Holt McCallany was born into a family of New York City performers. His mother is an actress and cabaret singer and his father was a Tony Award-winning producer. He began school in Ireland at the age of 5 before his parents moved back to New York. At 14, he ran away from home and took a Greyhound bus to Los Angeles to pursue his dream of becoming an actor, but his parents tracked him down and sent him back to school. After high school, Holt traveled to France to study at the Sorbonne and the Paris American Academy, as well as L'Ecole Marceau and L'Ecole Jacques Lecoq. He spent a summer reading Shakespeare at Oxford and later joined a production of "Twelfth Night" at the Edinburgh Fringe Festival in Scotland, then moved back to New York to begin his professional acting career.

McCallany won rave reviews for his portrayal of a boxer with pugilistic dementia on the FX series "Lights Out." He appeared in numerous films including "Men of Honor," "Three Kings," "Fight Club" and "The Losers." He will also appear in the upcoming "Gangster Squad" and "Bullet To The Head."

On television, he appeared on "CSI: Miami" and "Criminal Minds," on the Network, "Tyson," "The Rough Riders" and "Heroes," among many others.

His birthday is Sept. 3.