Alessandra Ambrosio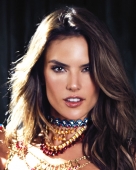 Born in Erechim, Brazil, to parents of Italian and Polish descent, Alessandra Ambrosio nurtured her desire to become a model from a young age.

Alessandra has been a Victoria's Secret Angel for more than 10 years and continues to be a global spokesmodel for all things Victoria's Secret. As the first ambassador for the Victoria's Secret Pink line, she helped launch the brand during a nationwide tour in 1999.

She has also walked in shows for some of the biggest designers in fashion, such as Dolce & Gabbana, Marc Jacobs, Prada and Louis Vuitton. Alessandra has been featured in 70 international magazines, including Harper's Bazaar, Cosmopolitan, Elle, Rolling Stone and several editions of international Vogue.

No stranger to charity, Alessandra is also an ambassador for the National Multiple Sclerosis Society, appearing in public service ads for the organization. Alessandra is also a devoted mother to daughter Anja (born in 2008) and son Noah (born in 2012).